PersonOps: A wellness & tech newsletter for living a high-performance lifestyle
Optimizing fitness, mindfulness, and productivity to excel in your career and personal life.
Welcome to PersonOps by Earl Lee, a wellness newsletter for living a high-performance lifestyle by optimizing fitness, mindfulness, and productivity to excel in your career and personal life.
I'm currently exploring. Previously, I completed a year as an MS/MBA at Harvard Business School, invested at Costanoa Ventures, helped start FiscalNote (Series D) as an earl-lee employee, dipped my toes in the corporate world at Google, and studied Computer Science at Yale. In my free time, I love working on growth in all aspects of my life—fitness, mindfulness, and productivity. For more about me, feel free to check out my personal website.
In this newsletter, I'll share practical advice and strategy on living a high-performance lifestyle. If you're like me, you prioritize fitness but also strive for excellence in career and personal relationships. The high-performance lifestyle is simply that: Pushing yourself both physically and mentally to live a happy and fulfilling life utilizing the latest in technology and scientific research to do so—essentially Self-Improvement and Quantified Self 2.0.
It's important to note what I won't be doing. I won't be pushing anything I write about whether that's the latest wearable or the newest health food trend—which I'll be sure to tell you about before it's a trend—as a panacea. Ultimately, living a high-performance lifestyle is hard work, and optimizations are just that—optimizations. They may elevate you the last 10% but the first 90% is no secret. I hope this newsletter serves as motivation to do the work.
From time-to-time you may also see me writing about tech news, as it's the industry I work in and practically everything these days are in some ways shaped by technology. I made a first attempt at this a few weeks ago on my personal website, but will start posting those musings on here.
Some ideas for what I'll be sharing:
How I went from 24% to 10% body fat by losing 35 lbs in 6 months, half of which was under quarantine and with only resistance bands, a pull-up bar, and a couple kettlebells. Also, lessons learned from trying to put on muscle and going from 150 lbs and 17% body fat to 170 lbs and 24% body fat.

Implications of Apple's WWDC announcements last week as it relates to "healthOS" and future of connected health.

Standing vs. sitting for productivity and calorie burn.

Cutting through the intermittent fasting and ketogenic diet fad and the real, boring reason they might help but are not magic pills for weight loss.

Carb timing for optimizing nutrition.
Read on to get a better sense of who I am and what the three topics—fitness, mental wellness, and productivity—mean to me.
---
Fitness
A decade ago, I competed in cross country and track. Now, I'm an avid weightlifter, having last competed at the 2019 American Open Series in Columbus, OH before school made it hard to travel and compete. I've kept training, however, even ending up in a stock photo for our school gym.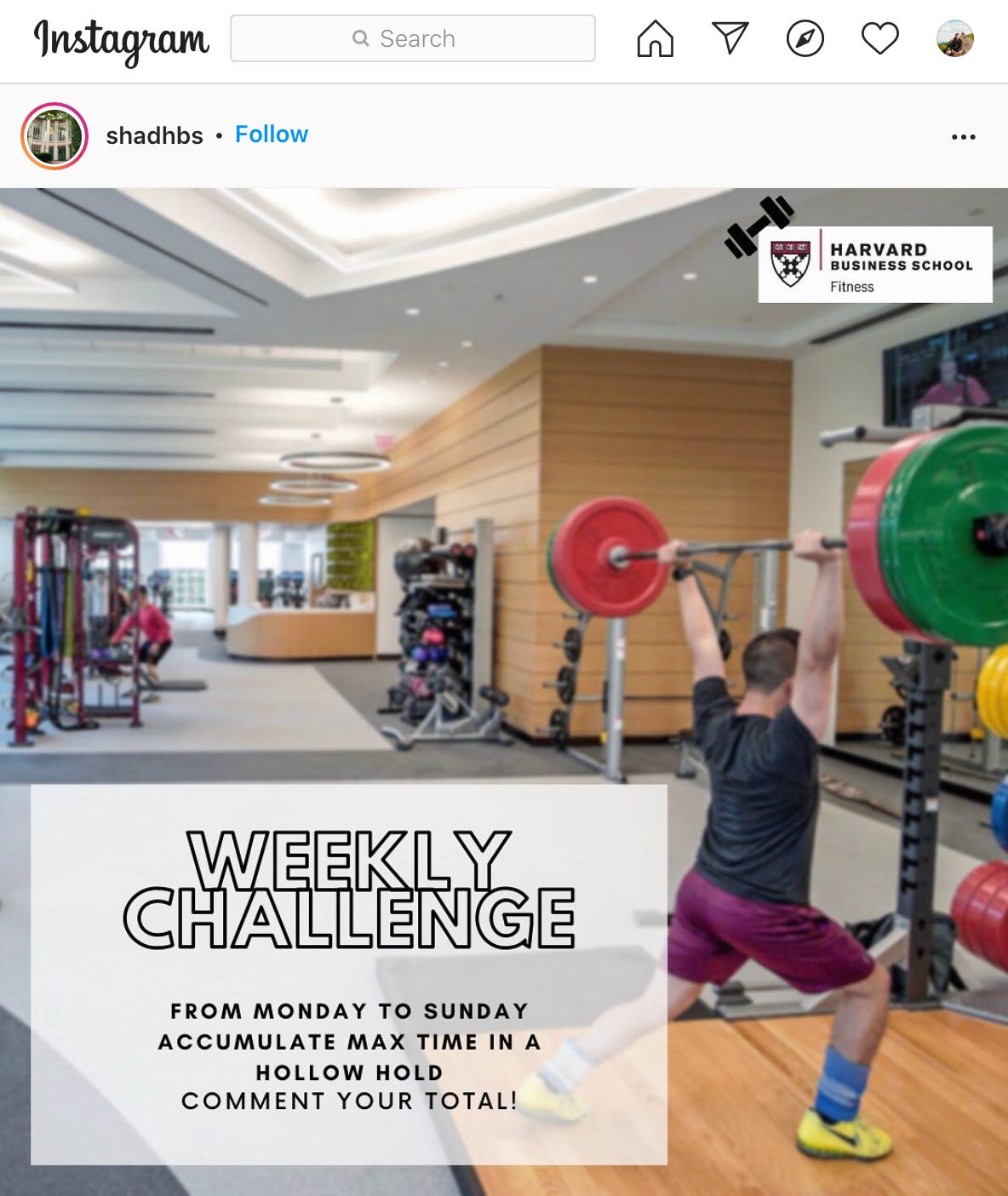 Yours truly. Don't ask me what a hollow hold is, and yes, my jerk form on that repetition isn't perfect.
More recently, I acquired a full set of weight plates, a barbell, and a squat rack. Because these items are hard to come by during quarantine, I programmed a bot that would text me as soon as the item I wanted came in stock. This was important because the websites would oftentimes update before a vendor's in-stock notification emails went out which gave me several minutes of lead time to beat the rush. Text message notification also enabled me to act immediately, since I leave email push notifications off so that I'm not glued to my email inbox all day.
Note the sequence of time stamps when I bought a pair of 25lb and 15lb bumper plates:
Gmail view of what happened. The emails from "elee" are my bot and correspond with SMS messages that I also received at the same time.
I was notified by my bot at 5:31pm. Two minutes later, at 5:33pm, I had put in my order by clicking on the product page link in my bot's text message and paying via Apple Pay. The whole flow takes about 15 seconds. Four minutes after I already ordered, the vendor sent out an email announcing that the bumpers plates were back in stock. I had gotten six minutes Of advanced notice before the public and had executed my order four minutes before the public was notified. Good thing we're not talking about markets here.
Mental Wellness
The summer after graduating college I read Mindset by Carol Dweck. The book catapulted growth mindset into the common lexicon and was particularly impactful for me not because it taught me a new way to think but reaffirmed the lens through which I view life. I developed a growth mindset through my high school and college experiences—heavily influenced by my journey with performance sports and academics. In this newsletter, I plan to share my perspective on growth mindset. Under the same umbrella, I plan to talk about intelligence, knowledge, and psychology. The first two are areas I've always wanted to improve on, but it's important to recognize that the third plays a large part in the first two. Over the past few years, I've become more attuned with evaluating my own emotions and designIn my life and behaviors accordingly. These are choices such as physical environment, the people I spend time with, how I choose to view circumstances, and even my daily routine. These choices help me—and I hope it will help you—be a better friend, relative, and mentor to others.
Productivity
Just as much as I strive to optimize my outcomes in performance sports, I love trying out new things to optimize my productivity. There's no calendar or email app I haven't tried or a to-do list app that I haven't broken by overloading with items. My current personal productivity stack is as follows:
Hardware

11-inch iPad Pro (2020) which is a recent addition and feels like the future—see my tweet thread on why.

15-inch MacBook Pro (2017)

iPhone XS Max which I actually want to downgrade to the smaller screen size version because I now realize that the extra screen real estate is not worth the cumbersome form factor.

WHOOP for HRV, sleep, and calorie burn tracking.

Withings Body Cardio for weight and body fat tracking. I weigh in every morning use a trailing 7-day average because that provides a much more realistic assessment of your body weight and body fat, which can vary widely depending on carb and water retention and can be misleading without the averaging.

Sony A7rii w/Vario-Tessar 24-70mm f/4 zoom lens

Software

Roam Research for personal notes.

Notion for startup collaboration.

Toggl for time tracking.

Things 3 for to-do.

Overcast for listening to podcasts.

Shuffle for podcast discovery.

MyFitnessPal for nutrition tracking.

Safari instead of Chrome because battery life, reading list, reader mode, and continuity across devices.

Apple Calendar because I unfortunately have to use an Outlook calendar for school, otherwise I would exclusively use Google Calendar.

Gmail even after trying Superhuman. If I were still using Chrome, I'd also be using Simplify.

Google Maps for tracking restaurants, coffee shops, and grocery stores I want to try and like.
Final Note
I'm still experimenting with what content I'm most uniquely positioned to produce and is valuable to readers, so over time, you may see me writing more about one topic and less about another. Additionally, it would be extremely helpful if you tell me what was particularly interesting and helpful as well as what you skipped over or wish you had. I'm also happy to consider a topic you're curious about. You can reach me via Instagram, Twitter, LinkedIn, or just respond to this email if you're already subscribed. Thanks for listening!